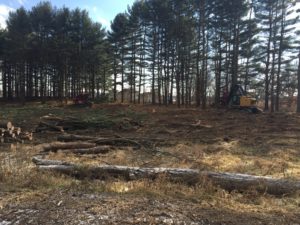 Michigan's Trusted Land Clearing Specialists
Kivisto Tree Service, LLC is a local, family-owned business committed to providing safe, efficient and cost-effective land clearing services. We are MDOT prequalified for N2, clearing and grubbing, and we are licensed, insured & bonded.
Our equipment fleet includes an excavator, track skid-steers, forestry mulchers, tree shears, a skidder and a whole tree chipper able to handle jobs from small to large. We can remove all unwanted trees, stumps & vegetation down to the soil so it is ready for the next phase of your project.
Kivisto Tree Service, LLC provides honest, competitive estimates and our attention to detail is second to none – give us a call today, we look forward to hearing from you!